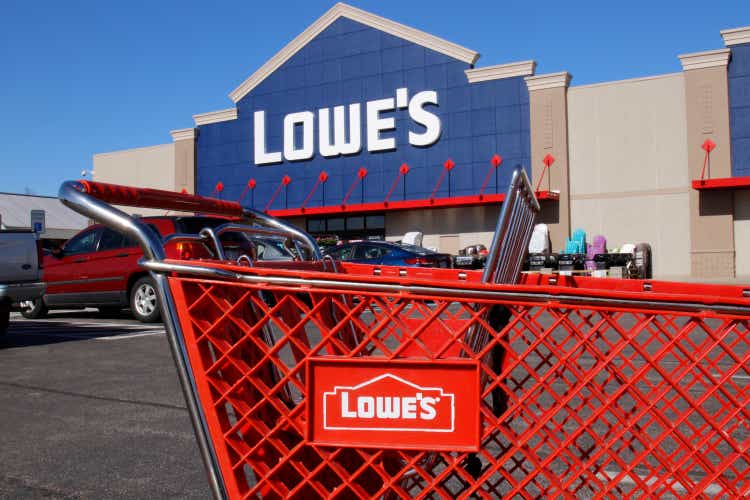 Lowe's Companies (NYSE:LOW) is set to report its Q3 results on Tuesday before the market opens and investors will keep their eyes peeled on any impact from the slowdown in the broad home improvement market and from concerns about nonessential consumer spending.
The consensus EPS Estimate is $3.03 (-7.3% Y/Y) and the consensus Revenue Estimate is $20.86B (-11.2% Y/Y).
Over the last 1 year, LOW has beaten EPS estimates 100% of the time and has beaten revenue estimates 75% of the time.
Retailers might see their demand softening as consumers could tighten their purse strings as economists expect a slowdown ahead in the backdrop of higher-for-longer interest rates.
Earlier in Nov. RBC Capital Markets had started the home improvement retailer off at sector perform given near-term concerns on consumer spending.
Retailer Walmart (WMT) last week, warned on consumer spending trends just ahead of the crucial holiday shopping season.
However, last week LOW's peer The Home Depot (HD) topped estimates on both lines of its Q3 earnings report, but experienced pressure in certain big-ticket, discretionary categories.
"Whilst LOW may end up beating street estimates, the more pertinent takeaway is that this will likely be yet another quarter which reiterates the growing slowdown in the broad home improvement market," said SA contributor The Alpha Sieve.
However, fellow contributor Seeking Profits had a more optimistic take, saying while Lowe's (LOW) business has slowed it remains strong, and normalization does not mean ongoing declines, and added it expects housing projects to remain stable.
"The market is growing too negative about the housing DIY market, and investors should begin buying Lowe's here," Seeking Profits added.
The company had beaten its expectations in its Q2 earnings.
Fears on consumer spending are not the only thing the company is battling now.
Lowe's had also pointed to a rise in crime as a factor of reduced earnings and noted that the issue could continue to cut into their financial results.
In September, the National Retail Foundation reported that in 2022, retail theft rose ~20% from a year earlier.
Over the last 3 months, EPS estimates have seen 5 upward revisions and 21 downward. Revenue estimates have seen 2 upward revisions and 18 downward.