Democrat Rep. Jim Himes, D-Conn., admitted Sunday he is "anything but a clear yes vote" on the debt ceiling deal, calling the legislative process employed to secure the deal a "ransom note and hostage-taking" process.
"Is this really the way we want to do business as a country going forward? This is not how we're supposed to actually pass legislation in the Congress," Himes said during an appearance on "Fox News Sunday." 
"So, I hope that we, you know, get through this and then dispense with the catastrophe, the ransom-taking and the hostage and the, you know, the really debilitating qualities of this debt ceiling to get back to legislating the way we were designed to legislate," he added.
Himes stated the debt ceiling bill, for which an agreement was reached Saturday evening, fails to include Democratic priorities. He said the bill may prove to have "traction" among some Democrats given its size, or lack thereof, compared to what the GOP initially wanted.
"The obvious point here, and the speaker didn't say this – the reason it may have some traction with some Democrats is that it's a very small bill. It's a very, very small bill," Himes said. 
SPEAKER MCCARTHY DEFENDS BUDGET COMPROMISE AS CONSERVATIVES BALK: 'A STEP IN THE RIGHT DIRECTION'
"Now, you know, had the bill looked anything like what the Republicans passed on the floor, where they rescinded all of the money designed to create an electric battery industry in this country designed to further reduce drug prices, you would have had unanimity against it," Himes continued.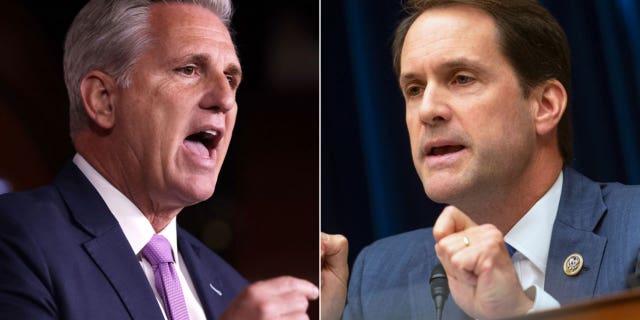 President Biden released a statement shortly after House Speaker Kevin McCarthy, R-Calif., made the announcement that an agreement was made, with the president strongly urging both chambers to pass the agreement right away." However, Himes admitted that despite Biden's push to pass the deal, he is still on the fence over whether he will vote yes come the final vote. 
DEBT CEILING AGREEMENT IN PRINCIPLE REACHED BETWEEN DEMOCRATS, REPUBLICANS
"Well, remember, every day I wake up knowing enough history to know that my job is not to do what the president asks me. In fact, you know, and in a government of divided powers, I regard my role acting as a check and balance on the president very, very seriously," Himes said.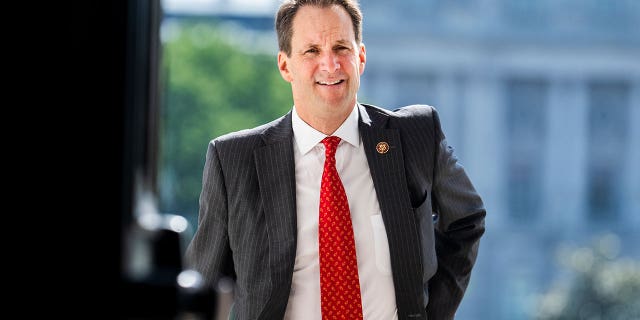 "I have not made up my mind. The whole enterprise is a corrupt enterprise in terms of legislating this way," Himes continued "And I'm going to listen to what the president's and his people's arguments are. But no, I'm anything but a clear yes vote at this point."
Himes stated he will be looping into a 5 p.m. call today with the Democratic Caucus following McCarthy's Saturday announcement. 
MCCARTHY CITES 'PROGRESS' IN US DEBT-CEILING TALKS WITH WHITE HOUSE
An agreement in principle was reached between the White House and House Republican leaders that would prevent the government from breaching the debt ceiling and failing to meet all its obligations.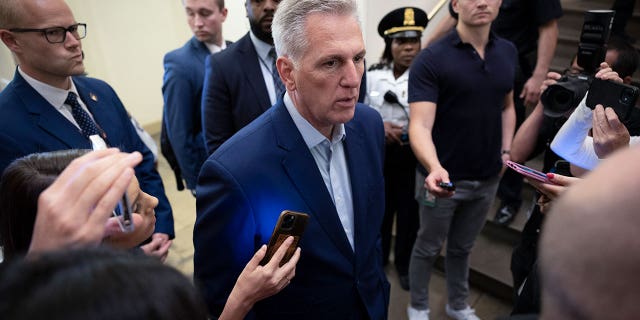 The deal would claw back some unspent COVID-19 pandemic funds and provide a cut from funding granted the IRS in Biden's Inflation Reduction Act, multiple sources told Fox News and Fox News Digital. It would also suspend the debt limit until after the 2024 presidential election, sources said. 
CLICK TO GET THE FOX NEWS APP
McCarthy said Saturday the deal includes cuts and language aimed at reducing the government's footprint. The bill text is expected to be released Sunday with a House vote on Wednesday. 
Fox News' Chad Pergram, Liz Elkind, Adam Sabes, Brooke Singman, and Jacqui Heinrich contributed to this report.